Vehicle Platforms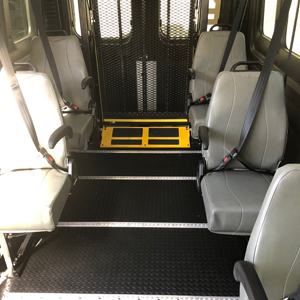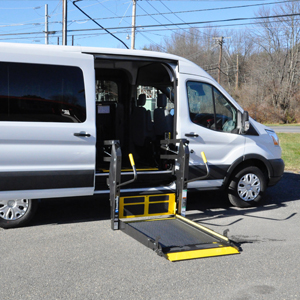 Thoughtful Engineering and Design
Industry exclusive 11gauge full-length steel plate subflooring, laminated plywood subflooring with industrial grade diamond plate rubber flooring.
One piece all welded steel grab bar at ambulatory entrances, no bolt-together pieces or parts to vibrate loose over time.
Steel reinforced ceilings to ensure headliners and roof panels don't sag or fall over time.
Steel reinforced bulkheads at shoulder restraint mounting points.
All electrical and air conditioning lines are loomed and tied inside the vehicle to eliminate wear and chafing.
All factory steel edge stampings are protected with vinyl edge guard where lines or wiring pass through.
All electrical connection points are easily accessed without wall or headliner removal.
Lowered curbside step on Ford Transits utilizing slider door entry.
Safety and Comfort
TCI Mobility paratransit vans come equipped with an overhead 726 Lumen LED fixture that illuminates the entire ambulatory entrance so your passengers never miss a step.
TCI Mobility bus door entry vans come equipped with underbody LED lighting that activates with door opening and closures to give a lit path to the entry steps.
For 2019, TCI Mobility School Student buses come standard equipped with the Child Checkmate System, to ensure safety of ALL little passengers.
Ergonomically designed grab bars and entry handles at ambulatory entrances for the comfort of passengers.
High capacity heat and air conditioning standard on all TCI Mobility vehicles utilizing aftermarket HVAC systems.
TCI's Solid StepTM full steel and non skid coated running boards and steps provide strength and durability, while inhibit rust for greater longevity.
TCI's LED illuminated Drop StepTM for extra ease and accessibility for ambulatory passengers on certain optional configurations.
Compliance
All TCI Mobility paratransit conversions are fully ADA compliant, and all vehicles meet or exceed FMVSS requirements.
All TCI Mobility conversions on Ford Transit chassis are Ford Qualified Vehicle Modifier (QVM) Certified.
TCI Mobility is an FCA/Ram Certified Second Stage Upfitter.
TCI Mobility is a member of the NTEA