FORD QVM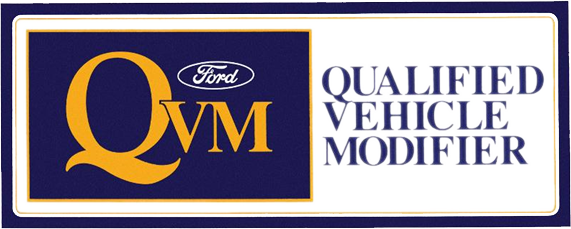 FORD QUALITY VEHICLE MODIFIERS - QVM
When your standards are high enough to demand a Ford or TCI Mobility for your conversion, don't settle for just any converter. To be sure of getting a conversion that meets our safety standards, look for a Ford Motor Company Qualified Vehicle Modifier (QVM). This program represents our proactive approach to helping improve the integrity and quality of conversions based on our vehicles. To show our commitment to this process, QVM conversions are provided with an extended limited warranty on major components.
What it Takes to Become a QVM
To qualify as a QVM, a coachbuilder must be successfully evaluated by Ford Motor Company on criteria such as engineering, the manufacturing process, quality control, and adherence to Ford and TCI Mobility guidelines. Specifically, the QVM Program requires the following from coachbuilders:
Compliance with all applicable Federal Motor Vehicle Safety Standards (FMVSS)

Compliance with all Ford industry guidelines for vehicle conversions

Annual facility inspection and review

A commitment to continuous improvement
QVM Customer Benefits
Because the Ford Motor Company QVM Program assists approved manufacturers in developing a high-quality conversion process, you can feel confident that the finished product will meet your high expectations, and while Ford doesn't actually produce the finished conversion you receive, Ford and TCI Mobility collaborate to bring you the finest vehicles that meet the high demands of the commercial transportation industry.